CAAAV holds Sandy Relief Legal Clinics!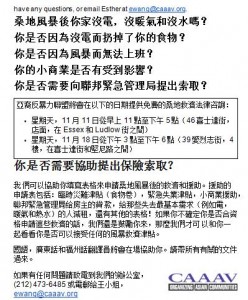 Did you lose electricity, heat, and water after Hurricane Sandy?
Did you have to throw away food because you lost power?
Were you unable to work because of the storm?
Was your small business affected?
Do you need to file a claim with FEMA?
Do you need help filing an insurance claim?

CAAAV Organizing Asian Communities will be holding free Sandy Relief Legal Clinics on the following dates and times:
Sunday, November 11 from 11 am to 5 pm (46 Hester Street, ground floor, between Essex and Ludlow)
Sunday, November 18 from 3 pm to 6 pm (39 Eldridge Street, 4th floor, between Hester and Canal)
*Click on photo to the right for English and Chinese flyers or click here.
We can help you fill out forms to get relief and assistance post-Sandy. Possible forms of assistance include: temporary diaster SNAP (food stamp) benefits, emergency unemployment benefits, small business assistance, FEMA loans for homeowners, rent reductions for those who lost basic services (ie, electricity, heat, and hot water), and more! If you're unsure whether you qualify for any relief, we still encourage you to come so that we can work with you to determine if you can receive any hurricane relief benefits.
Mandarin, Cantonese, and Fujianese interpreters will be available to assist you. Please bring all relevant paperwork and documents with you.
Call the CAAAV office at (212) 473-6485 if you have any questions, or email Esther at ewang@caaav.org.