Donate to CAAAV's 2017 People-Powered $10K Challenge (#PP10K)
The People-Powered $10K Challenge (#PP10K) is CAAAV's 10-day grassroots fundraising campaign that activates the collective power of our friends, families, and social networks to raise $10,000 or more to support racial and economic justice.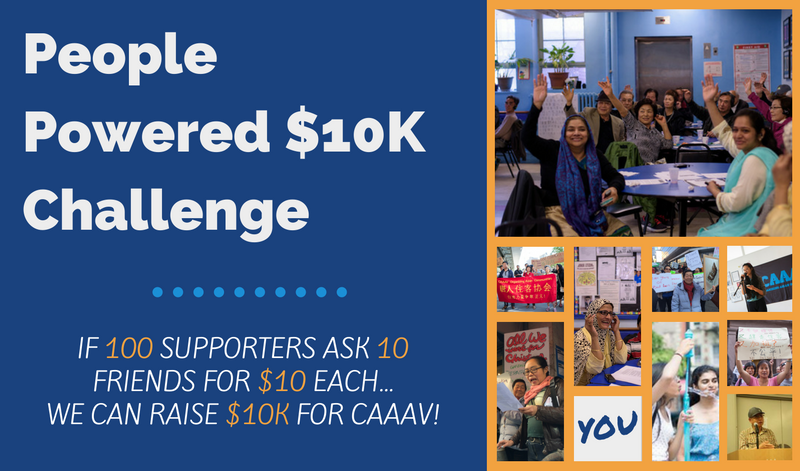 YOUR CONTRIBUTION CAN HELP US
REACH $10K. DONATE NOW!
Last year's #PP10K, 65 People Movers fundraised over $14,000. That $14,000 resulted in major impact for low-income Asian immigrant communities!
Since last year:
Over 130 tenants and youth trained on the federal policies coming down the pipeline and empowering them to fight back
60 tenants trained on their rights as immigrants
"Know Your Rights" Trainings for 60+ Muslim tenants in Queensbridge
Settled legal suits against three buildings managed by R.A. Cohen & Associates, but still organizing with plaintiffs to demand more
Successfully pushed back against NYCHA's lease renewal process which requires tenants to do the process online in English
Secured meetings with the City Planning Commission to discuss rezoning in Chinatown and the Lower East Side
25 new youth cohort required for the 2017 cohort
It's so important to help fundraise for an organization like CAAAV because this summer alone, we:
Join us in a people-powered movement for leaderful communities, solutions developed by those directly impacted, and systemic change! Now that's small change for BIG IMPACT!
If you have other questions or concerns, contact our Program Associate Sharmin at suddin@caaav.org or call 212-473-6485.