Day 2: Hurricane Sandy Relief Efforts from CAAAV!
Today, over 100 individuals showed up with food and volunteered with us.  We were able to charge the phones of over 230 people and provide essentials to another 700+ more.  Lines for supplies went around the block continuously throughout the day, and the collective cost of donations people brought in ranged in the thousands of dollars.  We were able to hit hundreds of apartment buildings checking in on elders and families.  (See photos here.)
Today, we showed that the power of community can hold us together even through the toughest of times and it was done with lots of love, laughter, and hard work.
Today, it was clear that even if City leaders do not acknowledge the work that we have done, we know we reached the people who needed it.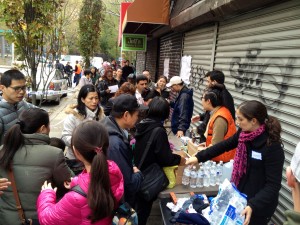 Again, a heartfelt thank you. Over the past 48 hours, CAAAV has been overwhelmed by the generosity of all our volunteers and supporters.  We didn't have time to collect the names of the people who dropped off carloads of donations and the individuals who came throughout the day to go into buildings, give out donations, and make sandwiches for people.
FEMA and other emergency services finally showed up and have begun their work in Chinatown.  They are providing food and water to people the same way we have been doing the past two days.
However, Chinatown and Lower East Side residents (along with Rockways and Red Hook) are still in need.  In order to not duplicate work, we will shift our strategy tomorrow to focus on bringing all your donations to people directly in the buildings.  One tenant has walked up over 40 flights of stairs three times in the last two days to visit his family member.  Another resident told us they were cold last night and tonight is even colder. Thanks to the folks who climbed up and down pitch-black stairwells, we now have a list of residents who need help.
And we will need your help.  Bring your walking shoes.  Bring your language skills. Bring yourselves and your friends. And bring the following if you can:
batteries (AA, AAA, D)
flashlights
water
food (Ensure for the elderly, other stuff that doesn't require electricity to heat up, people really are not picky!)
blankets
handwipes, sanitary napkins, etc.
This is the gameplan for tomorrow.  We will:
charge up to 500 phones if we get the generators that have been promised to us
make sandwiches and other foods until it runs out
deliver food, water, and supplies prioritizing the elderly, the disabled, and people who are having a hard time moving around
So come and help out anytime between 10am-5pm.  We have a role for you, promise. Just come.
If you have questions, you can email justice@caaav.org.  And of course, if you haven't already, please consider a donation at http://www.nycharities.org/donate/c_donate.asp?CharityCode=1838&amount=&designategift2=.
Thanks,
Helena