Donate to CAAAV's 2016 People-Powered $10K Challenge
The People-Powered $10K Challenge (#PP10K) is CAAAV's 10-day grassroots fundraising campaign that activates the collective power of our friends, families, and social networks to raise $10,000 or more to support racial and economic justice.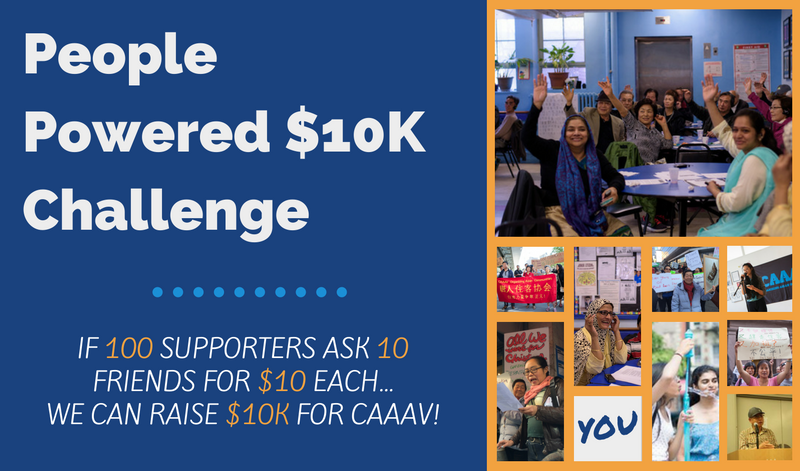 YOUR CONTRIBUTION CAN HELP US
REACH $10K. DONATE NOW!
Last year's #PP10K, 58 People Movers fundraised almost $14,000. That $14,000 resulted in major impact for low-income Asian immigrant communities! Since last year:
Our Chinatown Tenants Union trained residents in Manhattan's Chinatown to start tenant associations that won tenants' repairs of dangerous building violations, freedom from landlord harassment, safe building procedures, and suspension of rent payments as compensation for dangerous living conditions;
Our Chinatown Tenants Union and Asian Youth in Action programs mobilized Manhattan's Chinatown alongside low-income residents across the City to make sure Asian voices were heard to win a historic rent freeze for the second year in a row, protecting rent increases for over 1 million already rent-burdened rent-stabilized tenants;
Publishing No Access: The Need for Improved Language Access, the first ever report on the experiences and policy recommendations of Asian immigrants in public housing leading to NYCHA adding Mandarin and Cantonese to their Central Call Center in addition to English and Spanish reaching tens of thousands Chinese residents. This win has opened the window of opportunity to push for other Asian and South Asian languages including Bangla and Korean and more language access reforms;
Trained 15 bilingual Asian youth to become community organizers who are the leaders of today and can bridge generations of Asian immigrants together for housing justice.
Join us in a people-powered movement for leaderful communities, solutions developed by those directly impacted, and systemic change! Now that's small change for BIG IMPACT!
If you have other questions or concerns, contact our Program Associate Ruben at ran@caaav.org or call 212-473-6485.