Day 5: Hurricane Sandy Update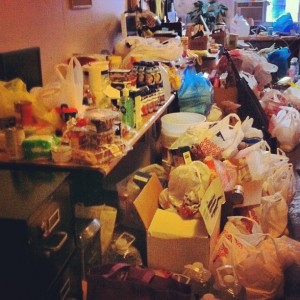 Two marathoners from Canada were the first volunteers to show up to begin sorting through the donations that had taken over half of our office.  That was the beginning of the over 300 people who came to our doors today to donate and to volunteer.  Over 100 people called the office today and we were able to send 15 cars to Far Rockaway, Gowanus, Coney Island, Red Hook, LES, Staten Island, and Sunset Park.
The supplies that are still needed urgently now are:
blankets
cleaning supplies and materials
workman gloves
food
water
batteries
Please, if you are looking to volunteer, check out interoccupy.net/occupysandy.  We continue to work with them around coordination of donations.  But at this point, volunteers need to be in areas where there still is not electricity and where people have lost their homes.
This crisis is far from over and the long-term cleanup has barely begun.  Tomorrow schools will re-open, most jobs will require people to go back to work, and people will solely focus on Tuesday's elections.  This is not the time to get back to life before Sandy. For many of our fellow New Yorkers, their lives have fundamentally changed.  Their cleanup is our cleanup.  It is our responsibility to make sure that when the next disaster strikes (and there will be more), we have made the choices as a City to 1) ensure equality in distribution of services, 2) push for infrastructure rebuilding that is not bigger and better but that considers the new world we live in around climate change, and 3) build political power based on values of collective well-being and fairness.
Be well,
Helena