November 6th: Actions Speak Louder Than Words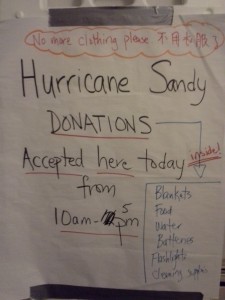 We all know actions speak louder than words.
THANK YOU to all the individuals who continue to donate the needed supplies: blankets, food, water, flashlights, batteries, cleaning supplies. (Please, NO CLOTHING.) Today, cars came by to pick up items specifically for the Rockaways, and CAAAV was able to bring supplies over to FUREE. We have also put the monetary donations that have come in directly for Sandy relief efforts– thousands of dollars just on buying basic supplies that the government has not supplied in their emergency relief efforts.
It is getting cold out there. Tonight, the city/state/federal governments still have no plans to house the over 40,000 individuals that have been displaced by Sandy as the Nor'easter heads our way tomorrow. This is in addition to providing shelter to the ever-growing homeless population in New York City whose stories remain invisible throughout this crisis.
Today, we also focused our attention on the elections with the intention of holding the people we elect accountable for providing for the well-being and safety of everyone at all times. No matter what the outcome, we are ready.
It is imperative we connect the immediate relief work to longer-term organizing for real social change. The day-to-day work that CAAAV does builds our strength as a community to be able to respond in moments of crises. It really does take community to come together, and actions do speak louder than words.
Take care,
Helena