Solidarity with all lives lost to police and hate violence.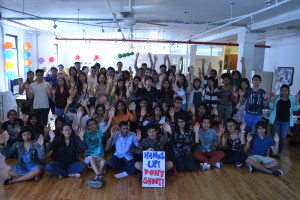 CAAAV Organizing Asian Communities and DRUM – South Asian Organizing Center
  Statement in solidarity with all lives lost to police and hate violence. 
As Asian and South Asian organizations who have been fighting police violence in its various forms, we want to express our solidarity and love for Ferguson and all victims to state-sponsored violence. From the murder of Fong Lee by police officers in Minneapolis, to surveillance of Muslim and South Asian communities by NYPD, to the drone attacks on Pakistan, Asian communities have experienced violence at the hands of the police and the military.  We have seen the impact on South Asian, Arab, and Muslim communities after 9/11, the internment of Japanese communities during WWII, and throughout wars that have labeled our communities as "alien," "terrorist," and "foreign."
Though we have our own experiences with state violence, we recognize that Black bodies are the primary targets of state and police violence in this country.  The brutal murders of Black people at the hands of police officers, including the deaths of Eric Garner, Mike Brown, Shantel Davis, Ayana Jones, and Ramarley Graham, are not new, but are part of a pattern of the murder of Black people at the hands of the police.  We also want to recognize the deaths of Tiffany Edwards, Mia Henderson, Kandy Hall, and Yaz'Min Shancez, Trans women of color who have been killed in the past month in acts of hate violence. The loss of their lives fills us with sadness and pain.  And every lost life is a reminder of the violence that Black communities face within the system of white supremacy.  As immigrant communities, we must recognize and challenge the ways that the U.S. state has been built on anti-blackness that devalues Black lives and Black people's humanity.
We are inspired by the ongoing work that Black activists in Ferguson and throughout the country are doing to challenge military and police violence.  The events in Ferguson is another level of violence in the U.S. where the media is being prevented from documenting the injustices present, and where legal observers are being arrested. The U.S. so quickly points their finger at other countries, but won't recognize the injustice that is being done right here.  Non-black communities of color cannot be silent.  We must unite together to demand that the U.S. police and military be accountable for the perpetual violence that they commit and accept responsibility.  As organizations that are committed to the long term work of challenging police brutality and violence in all of its forms, we demand an end to the violence in Ferguson.  We demand an end to the killing of Black teenagers because #BlackLivesMatter.  We demand an end to hate violence that kills women, trans people, and immigrants every day.  We demand an end to gendered violence that tears our families and communities apart.  We demand an end to U.S. wars abroad. We ask that all Asian and South Asian community members stand with us to demand end violence in all its forms.
Supporters (List in Formation)
Adhikaar (New York, NY)
Asian Pacific American Network of Oregon (Portland, Oregon)
Asian Pacific Environmental Network (Oakland, CA)
Association of South Asians Taking Action (Bay Area, CA)
BAYAN USA (National)
Chinatown Community for Equitable Development (Los Angeles, CA)
Chinese Progressive Association – San Francisco (San Francisco, CA)
Damayan Migrant Workers Association (New York, NY)
Khmer Girls in Action (Long Beach, CA)
Nodutol for Korean Community Development (New York, NY)
Providence Youth Student Movement (Providence, RI)
SOOBAK (Los Angeles, CA)
UNITED SIKHS (National)
VietUnity (Bay Area, CA)