Become a 2016 People Mover
The People-Powered $10K Challenge (#PP10K) is CAAAV's 10-day grassroots fundraising campaign that activates the collective power of our friends, families, and social networks to raise $10,000 or more to support racial and economic justice.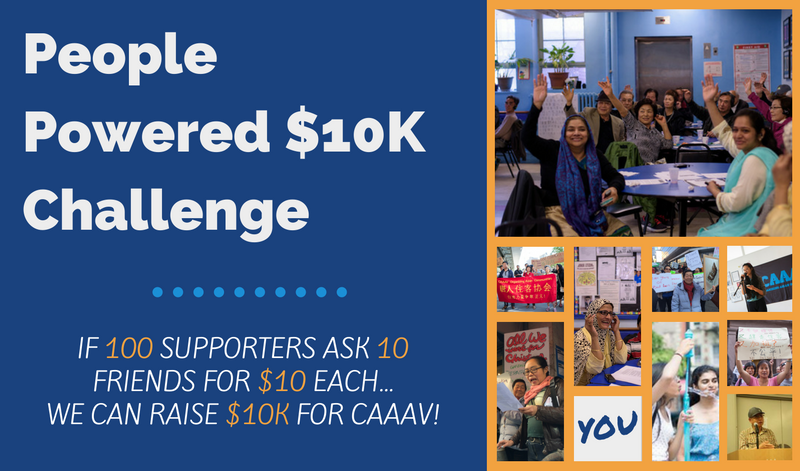 The challenge is really simple! All we need is 100 People Movers to sign up to fundraise $100 from Monday, 10/3, to Wednesday, 10/12. With our collective power, we can easily raise $10,000…
During last year's #PP10K, 58 individuals became People Movers and fundraised almost $13,000. That $13,000 resulted in system-wide impact for low-income Asian immigrant communities.
This year, as our campaigns for affordable housing and language access heat up, we know our #PP10K can do even better with new and returning People Movers like you.
So how about it? Does CAAAV give you hope?
Can you tap into your own power to support our leaders?
We want the #PP10K Challenge to be a growth opportunity for everyone. As a registered People Mover, you will be provided with:
Your Personal Fundraising Page
Fundraising Toolkit with tips and templates for asking your friends
Fundraising Trainings for NYC-based People Movers
Personal Check-Ins from our motivational Fundraising Coaches
List of Previous Donors to your fundraising page (for past People Movers)
Opportunities to meet other People Movers
Thank you for being awesome and joining the People-Powered $10K Challenge!
For Frequently Asked Questions, click here.
If you have other questions or concerns,
contact Ruben at ran@caaav.org or call 212-473-6485.