VICTORY! 90 Elizabeth & 22 Spring Tenants Win Safe & Affordable Housing!
WE WON! We are thrilled to announce two victories in our Chinatown Tenants Union (CTU) building campaigns. This winter, our members from 90 Elizabeth and 22 Spring won settlements with their landlords to beat displacement and protect safe, affordable housing in Chinatown.
What Was Going On
As housing market rates increase and affordable housing decreases, landlords use a variety of tactics to make it difficult for rent-stabilized tenants to remain in their homes. In 22 Spring and 90 Elizabeth, landlords Samy Mahfar (SMA Equities) and James Fong respectively, resorted to dangerous construction during renovations of new units (for wealthier residents) to make conditions building-wide so unlivable that tenants would be pressured to leave.
In 22 Spring, debris led to extremely high lead levels. In 102 Norfolk, another Mahfar building organized by our allies Cooper Square Committee, lead levels were 2,700 times the legal limit. 90 Elizabeth tenants endured piles of garbage attracting rat infestations, collapsing ceilings, and exposed electrical wiring. Water and heat was shutdown for months, forcing Tomasa D'Avila, a resident of 90 Elizabeth since immigrating from Puerto Rico 50 years ago, to declare "We live as if we were animals while paying our rents and the owner fixes the empty units…while the apartments of those like me and my neighbors — the low-income ones — are not fixed."
Rather than helping tenants, Mahfar and Fong used their profits to hire "tenant relocation specialists," who say they work with tenants to come up with a relocation agreement, but all we hear about are how they pressure and harass tenants to take buyouts.
What We Won
90 Elizabeth and 22 Spring channeled their anger into building power together. Tenants filed lawsuits and organized grassroots campaigns outside the courtroom to apply public pressure on their respective landlords to meet their demands.
Both buildings' landlords must now repair all building violations, stop harassment, and follow safe building procedures. 90 Elizabeth won structural renovations to tenants' apartments that resident David Tang says "make the apartments feel brand new." 22 Spring won suspension of 15 months of rent playment to make up for the buildings' dangerous conditions in the past.
Thank you to our Chinatown Tenants Union members and our organizational partners Asian Americans for Equality, Cooper Square Committee, Manhattan Legal Services, Legal Services NYC, and CDP at the Urban Justice Center whose collective power brought this win about.
Cultivating Leaders
The victory is not just the affordable housing we protected, but the leaders cultivated from the struggle. 90 Elizabeth's David Tang got involved to fight for his mom, who raised him in 90 Elizabeth and feels a deep loyalty to their apartment. Through campaign meetings, outreach shifts, and public speaking roles at rallies, David saw people power making an impact.
During the settlement process, landlord James Fong offered to meet 90 Elizabeth tenants' demands, but on the condition that the tenants stopped organizing public actions. David and other tenants knew that it was only because of their public actions that Fong was pressured to listen to them.They refused his offer, but still fought on.
Organizing is about cultivating leaders who see organizing's larger potential. We are excited to now welcome leaders, like David, from 90 Elizabeth and 22 Spring into CTU's Organizing Committee, to fight in a broader housing justice movement. The struggle continues!
Are you thrilled about our victories and emerging leaders too?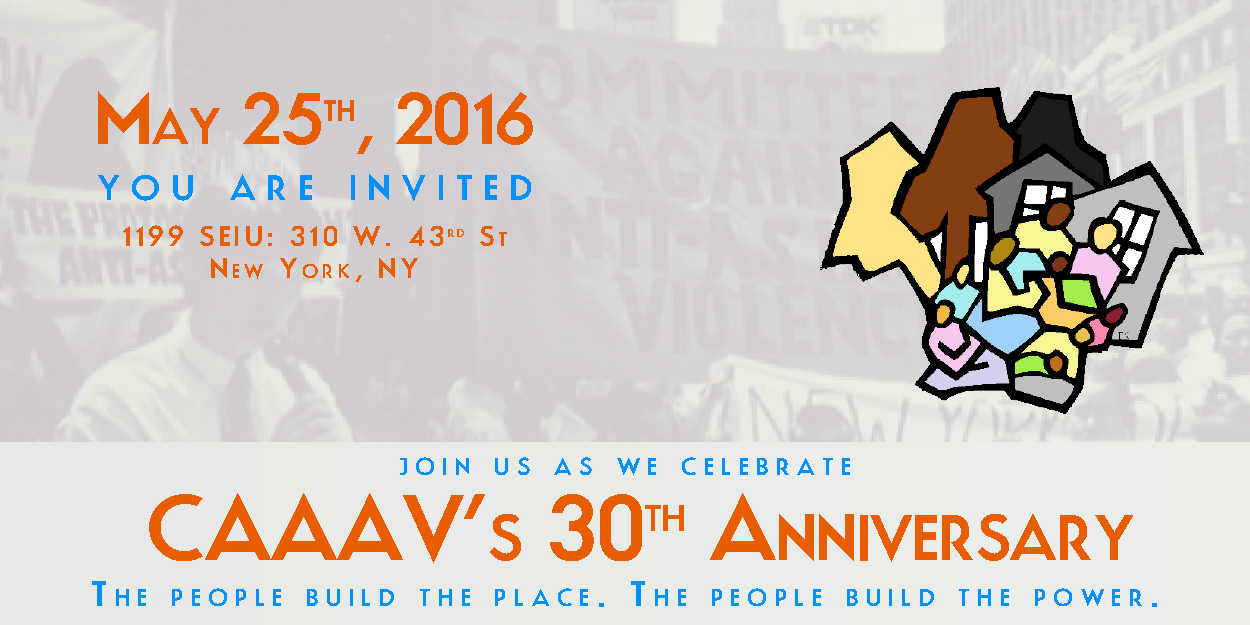 On Wednesday, May 25, CAAAV will be celebrate our 30th Anniversary Gala. Your support is a savvy and critical investment in winning social change for low-income Asian immigrants in NYC.
Buy your ticket or contribute today to celebrate with us.