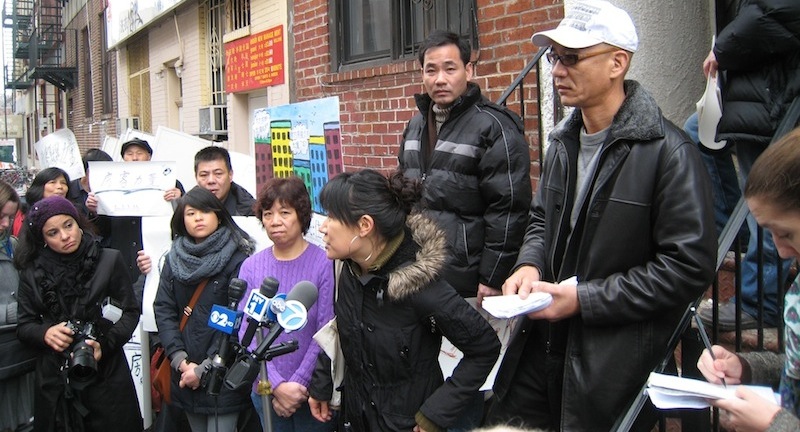 Chinatown Tenants Union
Our main campaign this year is to pass the Two Bridges Community Plan (TBCP), moving forward a key piece of the Chinatown Working Group recommendations.
In 2016, the largest new development in all of New York City was proposed in our backyard, on the Two Bridges waterfront. The three proposed luxury mega-towers would be nearly 100 stories high and introduce 2,775 units of luxury housing stock into the neighborhood, with over 75% of the units listed as market-rate.
In response to this threat, our coalition developed our own vision for our waterfront: the Two Bridges Community Plan. We filed the plan as a rezoning with the Department of City Planning (DCP) in 2017, and have been fighting to pass our plan ever since.
If we win, our community plan would limit the height of any new development on the waterfront and, most importantly, mandate that all new development in the neighborhood be over 50% deeply affordable housing. These zoning restrictions would severely curtail the ability of developers to use capital to speculate on our land and artificially push up rent in the neighborhood, and place control of development closer to our hands.
Astoria Tenants Union
Our main campaign in Astoria is to stop the massive overdevelopment project known as Innovation QNS, proposed by some of the biggest developers in the city: Kaufman Astoria Studios, Silverstein Properties, and BedRock Real Estate Partners.
Since 2020 these developers have tried to realize the nightmare of Innovation QNS, a massive $2 billion luxury mixed-use development project splattered across 5 blocks on 35th Avenue in the 37th Street and Steinway area. The luxury developers intend to build 2,800 apartments and bring in over 7,000 people to the working class neighborhood, proposing that 75% of the units will be set at market rate, while the remaining so-called "affordable" units set aside remain unaffordable for residents in the area. As with other rezoning proposals across the city, luxury developers are attempting to remake the city at the expense of a broader working class neighborhood.
The proposed site for Innovation QNS is a short walk away from the working class Bangali core of Astoria. If this project is allowed to continue, Astoria will even more rapidly shift from a working class immigrant neighborhood into a "hot" new neighborhood for middle class, young, gentrifiers. What appears as a single developer fight is truly a fight for the future of our neighborhood.