Searching for a Public Housing Organizer, with our Korean Membership!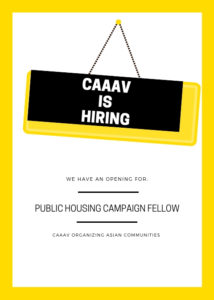 Public Housing Organizer (Korean membership) *Deadline July 14th*

JOB DESCRIPTION:
Founded in 1986, CAAAV: Organizing Asian Communities builds the intergenerational leadership of Asian immigrant communities in New York City to fight for racial, gender and economic justice. CAAAV is looking for a Public Housing Organizer with a background in outreach, base-building, leadership development and grassroots organizing in working-class Asian communities. The Public Housing Organizer will focus on building and growing CAAAV's base of Korean residents in Queensbridge.
About the Position:
The Public Housing Organizer is responsible for programming and campaigns organizing Korean tenants in New York City Housing Authority (NYCHA) public housing developments in Queens to demand improved living conditions and stop gentrification. The Public Housing Organizer will work closely with the Executive Director to manage the NYCHA Organizing Project that organizes Asian and South Asian tenants. The overall goal of the project is to develop the leadership of the tenants to join larger multiracial fight for systemic and institutional changes at NYCHA.
Currently, the Public Housing Campaign Fellows will be focusing on:
Building and mobilizing our Korean base in the Queensbridge Houses;

Growing a base in the Ravenswood, Woodside and/or Astoria Houses;

Coordinating volunteers to support organizing work in NYCHA public housing in language (Korean);

Holding weekly member leader meetings and monthly general membership meetings, across five languages (Mandarin, Cantonese, Korean, Bangla, and English);

Developing the leadership of members in Queensbridge and public housing across western Queens around funding for NYCHA housing, reclaiming economic development post-Amazon, language access, and other emerging needs;

Participating in organization-wide meetings, events and strategy sessions as needed.
Qualifications:
The ideal candidate will have:
Bilingual language skills in Korean – enough to engage members in organizing and political conversations – written ability a plus;

Strong commitment to CAAAV's mission and movement building;

Strong working knowledge of issues affecting working class, immigrant, communities of color and relevant experience working in Asian immigrant communities;

At least one year experience with outreach, base-building, member leadership development, and organizing campaigns;

Demonstrated ability to develop and supervise interns and members;

Ability to design, lead, run workshops, and trainings for members;

Excellent interpersonal, written and communication skills; strong public speaking skills.
This is a full-time permanent position.
To Apply:
Please send a cover letter and resume to jobs@caaav.org with subject heading: PUBLIC HOUSING Organizer by July 14th. Applications will be accepted and reviewed on a rolling basis. CAAAV is an equal opportunity employer. Women, immigrants, LGBTQ, people with disabilities, and people of color from low-income communities are strongly encouraged to apply. Due to high volume of calls, please do not call. Applicants will be notified for an interview by e-mail.