CAAAV Organizing Asian Communities ​
CAAAV works to build grassroots community power across diverse poor and working class Asian immigrant communities in New York City.
Building long-term grassroots power
CAAAV: Organizing Asian Communities was founded in 1986 by working class Asian women to build power in Asian communities against rising police and hate violence. Over time, our analysis deepened and our work broadened to fighting institutional and systemic racism and violence in Asian immigrant communities.

CAAAV's purpose is to develop the leadership of working class Asian immigrants to make a significant intervention in the gentrification of NYC by building neighborhood power in Chinatown and Astoria. Chinatown and Astoria are neighborhoods where Asian immigrants are the one of the driving forces of the working class, and could potentially shift the long-term political landscape of the city. Our strategy is to build neighborhood power to (1) defend our neighborhoods by fighting against speculative development; (2) fight for more housing for the working class in these neighborhoods; and (3) build enough power to constrict our opposition, the real estate industry.
01.

CAAAV CHINATOWN TENANTS UNION
Chinatown Tenant Union (CTU) was founded in 2005 by Chinatown tenants to address apartment neglect, landlord harassment, and to develop the leadership of working class Chinatown immigrant residents. We continue our mission today to organize against displacement, fight gentrification, and build the power of working class people in Chinatown so that we can determine the future of our homes and neighborhoods.
02.

CAAAV ASTORIA TENANTS UNION
CAAAV's Astoria Tenants Union (ATU) is building a base of working class Bangali tenants in Astoria. Astoria has been a landing place for working class immigrants for many years, and is currently one of the frontlines for defending against the gentrification of Queens. We are building a force that can intervene in speculative and luxury development and gentrification in our neighborhood and across the borough.
CAAAV Youth members and leaders are young working class Asians organizing to defend and fight for our neighborhoods. Instead of siloing youth into their own chapter, both our Chinatown and Astoria chapters are now intergenerational in both their membership and leadership. Young people have always played a critical leadership role at CAAAV – in building base, developing campaigns, running political education, organizing direct actions – and this leadership is now solidified in our chapter structure.
years of organizing and movement building
POWER BUILDING THROUGH ORGANIZING
CAAAV is building power by organizing a force of 1000+ working-class Asian immigrant tenants in Chinatown and Queens. We know that POWER comes from ORGANIZED people. And POWER is necessary to affect CHANGE.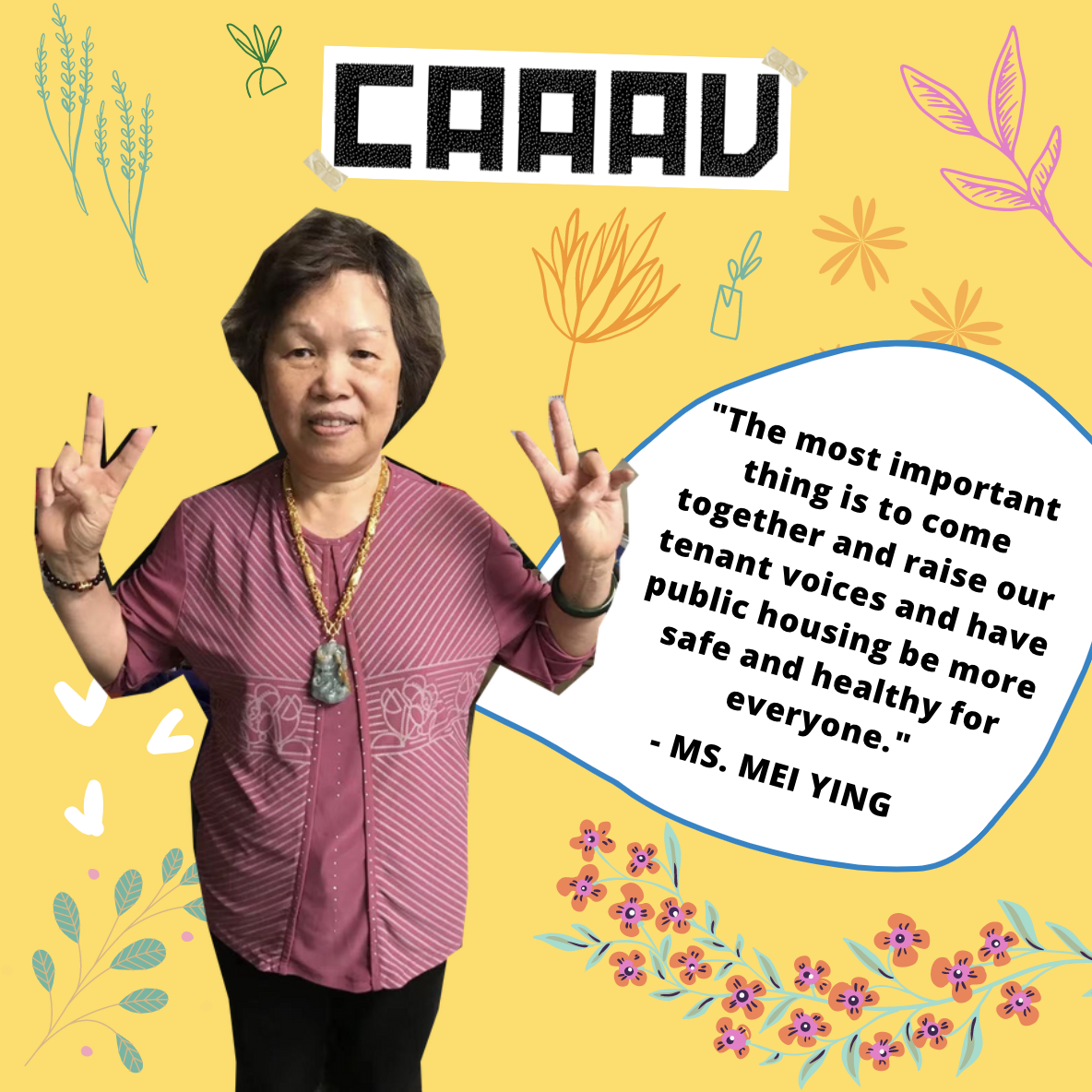 The most important thing is to come together and raise our tenant voices and have public housing be more safe and healthy for everyone.
Ms Mei Ying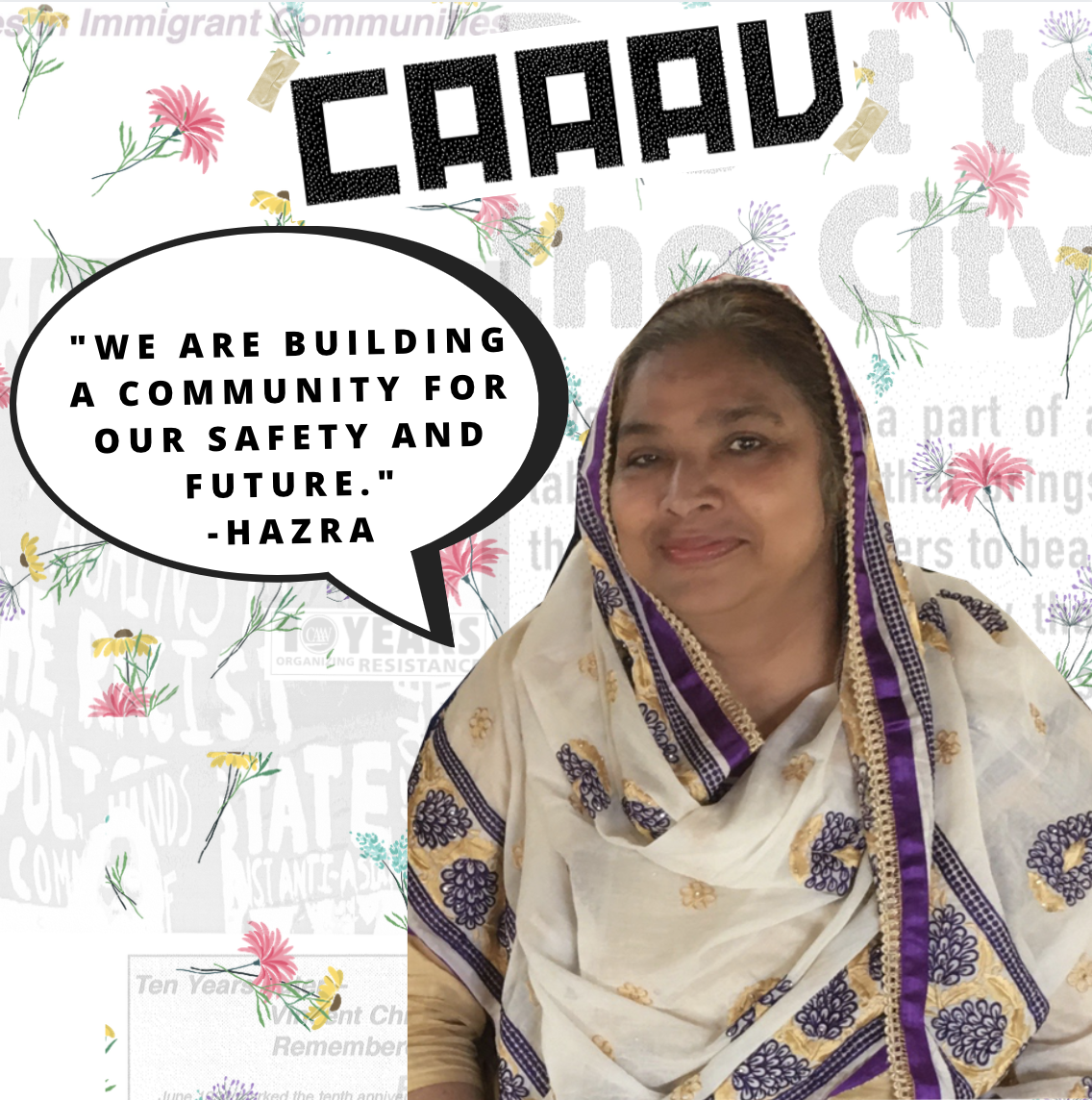 We are building a community for our safety and future.
Hazra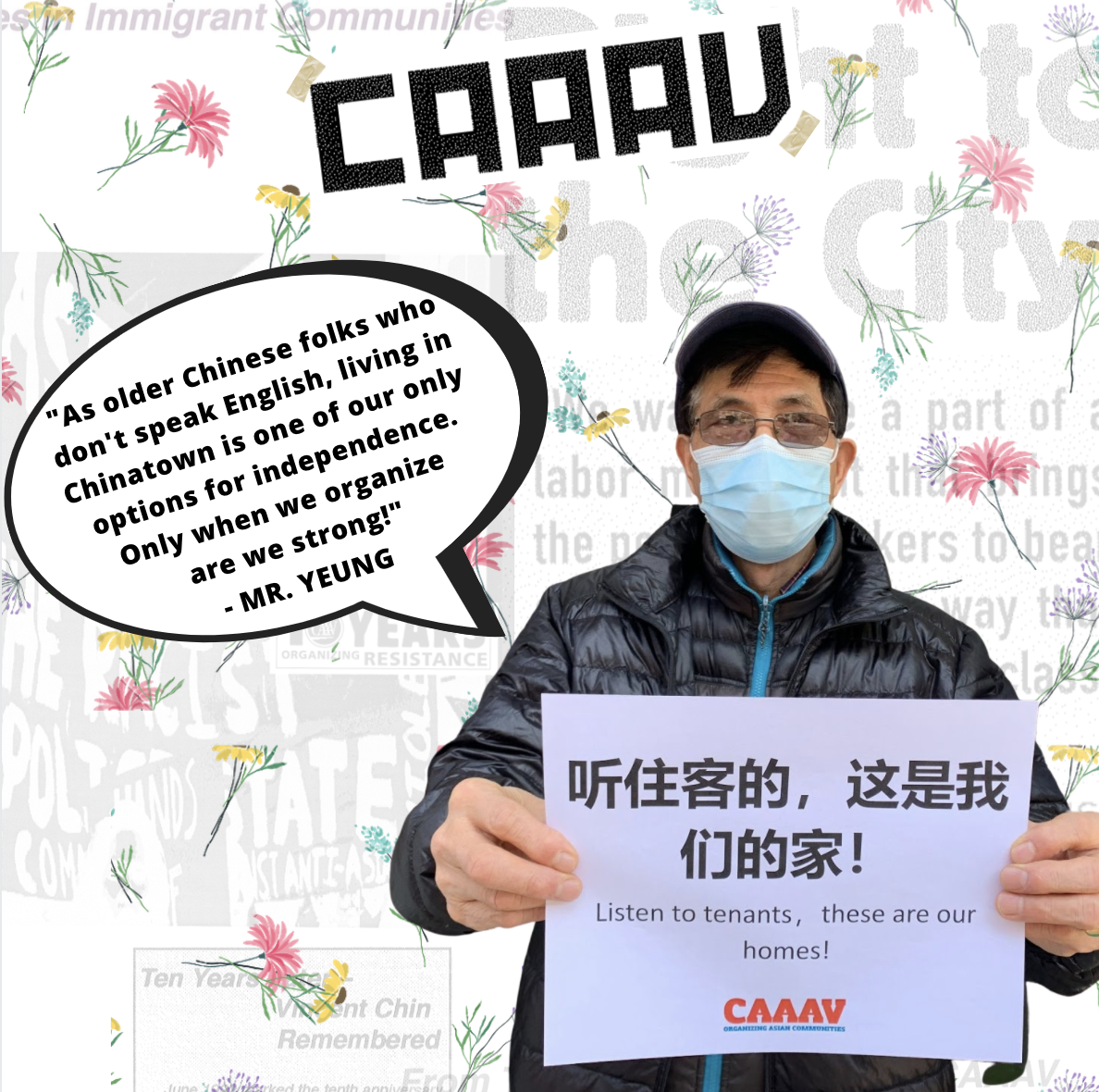 As Older Chinese folks who don't speak English, living in Chinatown is one of our only options for independence. Only when we organize are we strong!
Mr. Yeung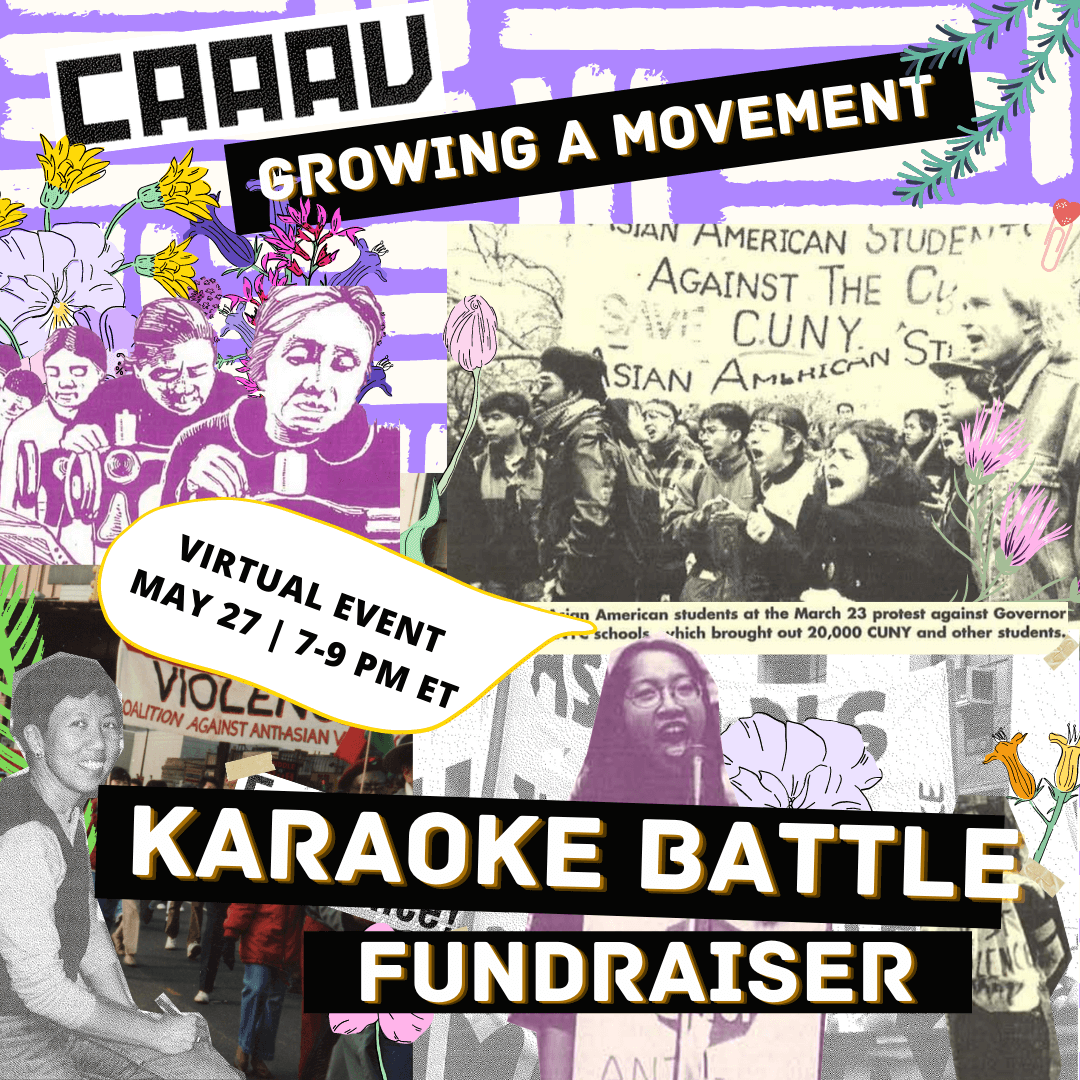 For 35 years, CAAAV has fought for racial and economic justice by building leadership capacity and organizing power for movements. It is more important than ever to resource Asian American grassroots organizing. It is through organizing and grassroots power we will be able to have a safe community. And it is through member-led leadership and […]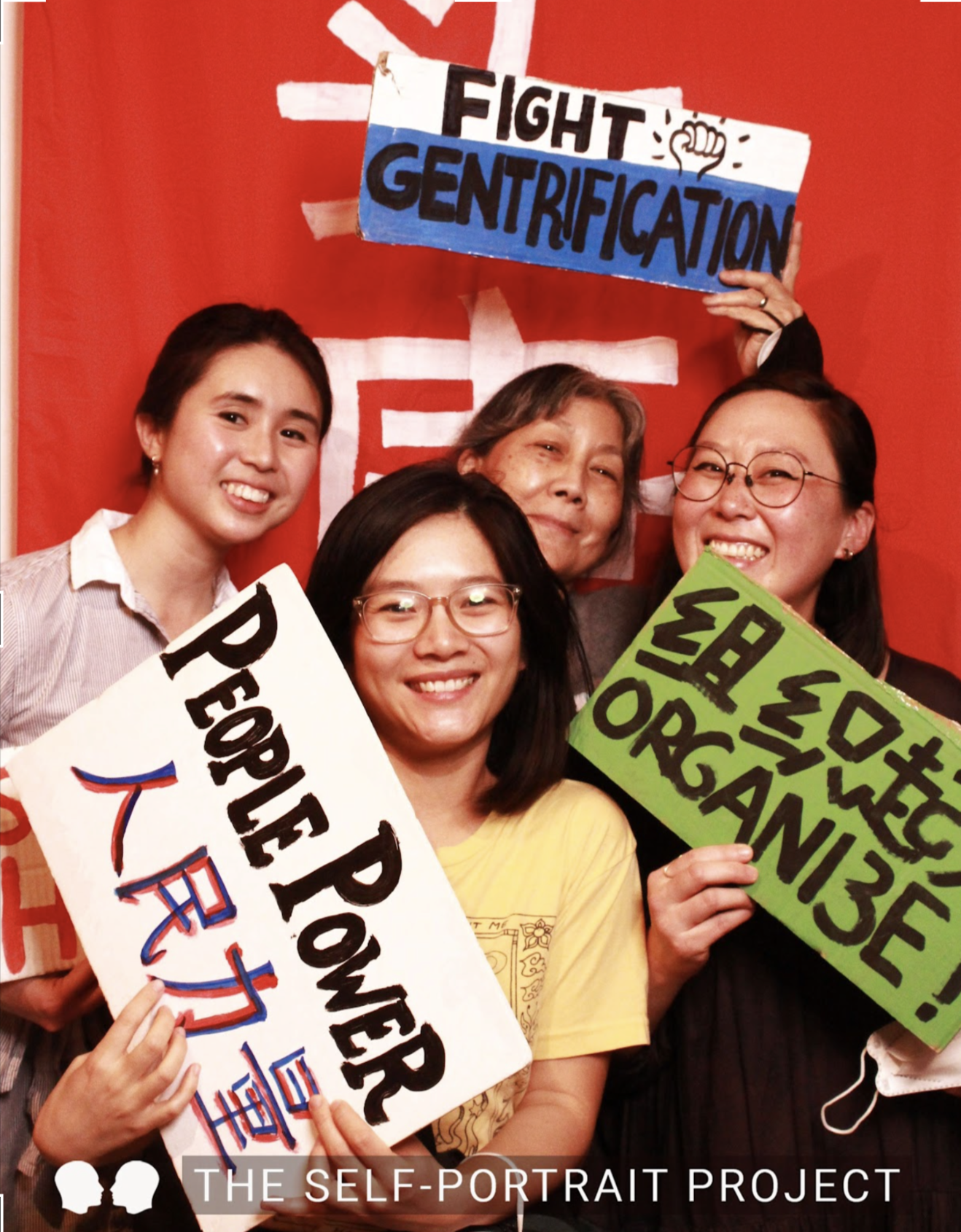 Thank you so much for joining us in March to celebrate the launch of the CAAAV Digital Archive at the "Activating Archives" event! We were so moved to see generations of CAAAV organizers, members, volunteers and supporters coming together in our first public event since 2019. We want to echo back some inspiring words from […]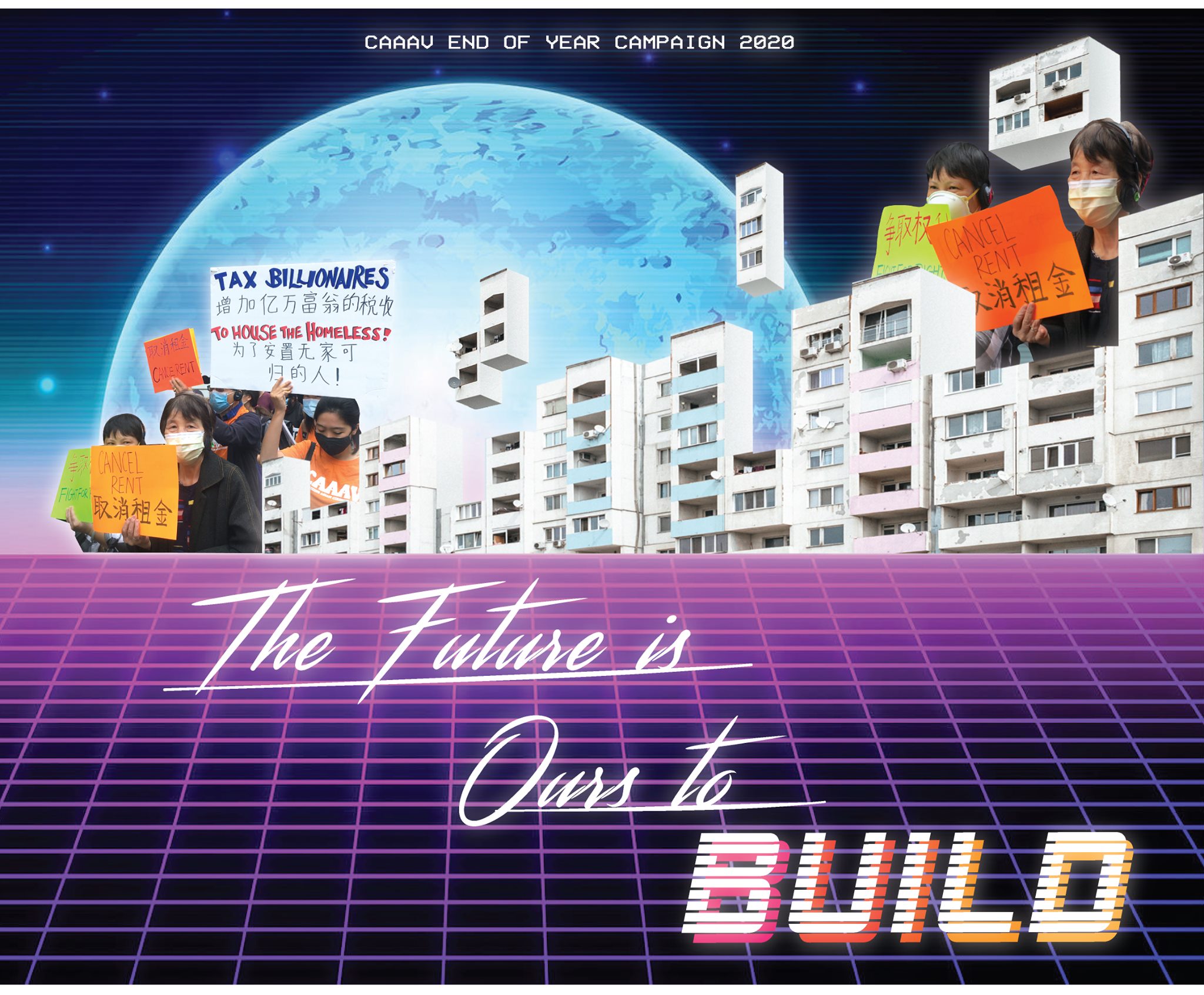 It's been a chaotic time, but also a time full of openings and charged with energy. Throughout the pandemic, CAAAV has been organizing our communities both virtually and on the ground to build grassroots tenant power! And we know that despite what happens, the future is ours to build. Next year, New York City will […]
CAAAV Chinatown Office:
55 Hester Street, Storefront
New York, NY 10002
tel: 212.473.6485
CAAAV Queens Office:
37-24 24th Street, Suite 108
Queens, NY 11101
tel: 718.255.2109
email: justice[at]caaav.org