Chinatown Tenants Union
For many years, our primary campaign in Chinatown was to pass the Two Bridges Community Plan (TBCP), moving forward a key piece of the Chinatown Working Group recommendations for land use.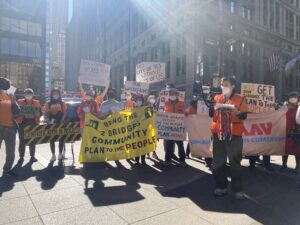 In 2016, the largest new development in all of New York City was proposed in our backyard, on the Two Bridges waterfront. The three proposed luxury mega-towers would be nearly 100 stories high and introduce 2,775 units of luxury housing stock into the neighborhood, with over 75% of the units listed as market-rate. The thousands of units in these towers would be available only to investors and the ultra-wealthy, creating a neighborhood on top of the existing working class communities of Chinatown and Two Bridges. We have seen the impact of luxury development driving gentrification: People are pushed out of their homes, as landlords raise rents, evict tenants, and keep apartments vacant in hopes of drawing in more profit in the near future.
In response to this threat, our coalition developed our own vision for our waterfront: the Two Bridges Community Plan. We filed the plan as a rezoning application with the Department of City Planning (DCP) in 2017, and fought valiantly to pass that plan for years.
Our community plan would have limited the height of any new development on the waterfront and, most importantly, mandate that all new development in the neighborhood be over 50% deeply affordable housing. These zoning restrictions would have severely curtailed the ability of developers to use capital to speculate on our land and artificially push up rent in the neighborhood, and placed control of development closer to our hands.
Unfortunately, our plan was rejected by the Department of City Planning in late 2022. DCP claimed that our plan would prevent the building of affordable housing – specifically the tiny number of pseudo affordable units that would be included in the massively expensive luxury towers that we were fighting. DCP made it clear that they will prioritize the building of often empty, speculative, luxury units over housing that working class people could afford and truly live in.
Still, the campaign has strengthened the commitment, scale, and skills of our membership as we continue the long fight for our home in Chinatown and citywide.
Astoria Tenants Union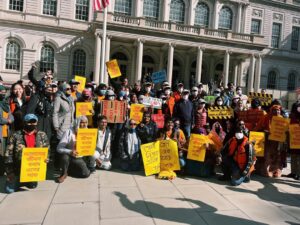 In 2022, our campaign in Astoria was to stop the massive overdevelopment project known as Innovation QNS, proposed by some of the biggest developers in the city: Kaufman Astoria Studios, Silverstein Properties, and BedRock Real Estate Partners.
Since 2020, these developers fought to realize the nightmare of Innovation QNS, a massive $2 billion luxury mixed-use development project splattered across 5 blocks on 35th Avenue in the 37th Street and Steinway area. The luxury developers intended to build 2,800 apartments and bring in over 7,000 people to our working class neighborhood, proposing that 75% of the units be set at market rate, while the remaining so-called "affordable" units set aside remained unaffordable for residents in the area.
CAAAV's Asian Tenants Union was one of the major forces fighting Innovation QNS. Even though we only started basebuilding in Astoria in March of 2022, we were able to organize hundreds of people to come to community meetings, give testimony at city council hearings, and take direct action against this project. Alongside the Astoria Not for Sale Coalition, we fought powerfully to stop this development from turning our neighborhood into a playground for gentrification.
Unexpectedly, Mayor Adams and Speaker Adams both played outsized roles in this fight, directly calling and influencing council members to vote yes. We were not strong enough to stop Innovation QNS from happening. However, we pushed them to make the biggest concession ever made by a private developer on private land in NYC, to make 50% of the units "affordable." While this is not what our communities need and deserve, we are proud of the work we were able to do, the base we were able to build, the relationships we forged, and we are ready to keep fighting for the future of our neighborhood and our city.