Thank you so much for joining us in March to celebrate the launch of the CAAAV Digital Archive at the "Activating Archives" event! We were so moved to see generations of CAAAV organizers, members, volunteers and supporters coming together in our first public event since 2019.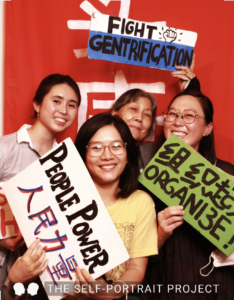 We want to echo back some inspiring words from co-founder Monona Yin: "We are drawing strength from our ancestors." We hope to activate the archives as a way to draw from our lineage and the organization's decades of history as we continue to build tenant power to fight gentrification.
Our friends at Self Portrait Project generously offered up a photobooth to CAAAV to document our first celebration for supporters and allies after 3 years! Learn more about how they empower participants to engage in self-representation here.
We truly believe that our archival work is collective work. We are committed to sustaining a living archive, one that is iterative, responsive to community feedback, and always changing to meet the current moment. Please look for updates to the digital archive at archives.caaav.org. We will continue to upload photos, video and audio materials in the hopes that these materials fuel movements for racial, economic, and gender justice.
Many thanks go to Chinatown Art Brigade and Pace University Art Gallery for sharing their exhibition space with us to showcase CAAAV's rich past. For those who would like to continue to leaf through the newsletters that were exhibited, please refer to this page on our digital archive website.
Please consider helping sustain CAAAV's ongoing work by making a one-time or monthly donation. For any questions or if you have materials you would like to see included in the digital archive, please email archive [at] caaav.org.
Sincerely,
Vivian Truong and Minju Bae
CAAAV Board Members
A very special thank you to the many supporters and allies that made the event possible, including Chinatown Art Brigade, Pace University Art Gallery, Moshi, and Self Portrait Project!