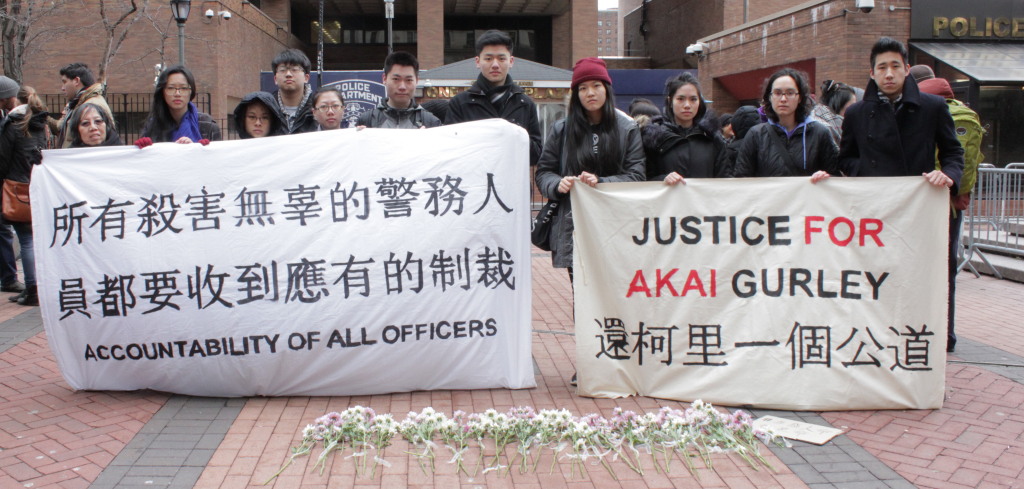 We believe that Akai Gurley and his family—and every family who have lost a loved one to police violence—deserves justice.
We hope you stand with us and show your support for #JusticeforAkaiGurley by signing our national open letter as your organization (and we encourage individuals to sign as well). Add your name here: http://bit.ly/Justice4AkaiSignOnLetter
+++++++
Text of open letter:
As Asian and Pacific Islander community leaders and organizations from across the country, we strongly oppose calls coming from some members of the Asian American community to drop charges against NYPD Officer Peter Liang for the death of Akai Gurley.
This demand is misguided and utterly hurtful to Akai Gurley's family and to communities that have been subjected to discriminatory and often deadly policing practices across the country.
We stand with Akai Gurley's family and all those who have lost loved ones to police violence.
We firmly believe that Peter Liang must be held accountable for his actions.
The fact that Officer Liang is Asian American shouldn't mean that we as Asians and Pacific Islanders support him unequivocally. Quite the opposite — it should compel us to think about what justice looks like and how Asian Americans can contribute to the movement for police accountability and broader racial justice.
Police violence against Black communities is a systemic problem, and when police officers are not held accountable, they are enabled to kill with impunity. Without accountability for police officers who use deadly force and a complete and thorough overhaul of policing practices and other institutional policies in the U.S., we will have more Akai Gurleys and more Officer Liangs, more Mike Browns and Darren Wilsons, more Rekia Boyds and Dante Servins. This should be unacceptable to all of us, especially as many of our own community members, from South Asians post-9/11 to Southeast Asian communities, are also targeted by police departments across the country.
Our history shows us that when Asian communities work together in solidarity with Black communities, we all benefit. We also recognize that the Asian community in the US has historically benefited from Black-led movements for racial and economic justice.
There is broad support in the Asian and Pacific Islander community for #JusticeforAkaiGurley and for the systemic overhaul of policing practices and other institutional policies that chronically defund and destabilize Black communities.
This is a flashpoint for Asian and Pacific Islander communities to come together and oppose police violence. In this moment, we stand together to show support for Akai Gurley's family, other families who have lost loved ones to police violence, as well as the broader police accountability movement.
公开信:
作為全國各地亞裔美國人社區領袖和機構,我們強烈反對亞裔美國人社區中的一些人要求取消NYPD紐約警員Peter Liang為Akai Gurley死亡的刑事檢控。
這要求是很誤導人的,而且對Akai Gurley家人和受到警察歧視和生命威脅的社區來說是很傷人的。
我們與Akai Gurley家人和所有因為警察暴力而失去了親人的受害者同在。
我們堅信Peter Liang一定要為他的行為負責任。
我們亞裔美國人不能因為Peter Liang警員是亞裔美國人而無條件支持他。相反的,我們應該要因此思考什麼是正義,而且也要思考亞裔美國人如何可以為更廣泛的種族正義且向警察問責而貢獻。
警察對黑人社區的暴力是一個系統性問題,而當警察人員不用負責任的時候,他們可以有罪免責的殺人。如果殺人的警察不用負責任,我們會有更多像Akai Gurley和Peter Liang的案件。這是我們無法接受的,特別是像我們自己的社區一樣有很多911後的南亞人和東南亞人社區,也是警察部門全國針對的目標。
從我們的歷史中可以知道,當亞裔社區和黑人社區團結合作時,我們大家都受惠。我們也意識到,在美國的亞裔社區在過往因著由黑人帶領的種族和經濟公義運動而受益。
在亞裔美國人的社區裡,許多人支持#JusticeforAkaiGurley(讓AkaiGurley得到正義)的運動,也支持系統性檢討警方執法以及那些長期以來削減經費、動搖黑人社區的機構政策。
這是亞裔美國人社區的一個亮點。在這一刻,我們站在一起支持Akai Gurley家人、其他因警方暴力而失去親人的家庭,以及整個向警方問責的運動。
Signers:
Organizations:
18MillionRising.org
Advancing Justice – Asian Law Caucus, San Francisco, CA
Anakbayan
API Equality – LA, Los Angeles, CA
API Resistance, Washington, DC
Asian American Legal Defense and Education Fund (AALDEF), New York, NY
Asian American Resource Workshop, Boston, MA
Asian Americans Advancing Justice – Asian Law Caucus, San Francisco, CA
Asian Americans Advancing Justice – Atlanta, Atlanta, GA
Asian Americans Advancing Justice – Chicago, Chicago, IL
Asian American Advancing Justice – Los Angeles, Los Angeles, CA
Asian Americans United, Philadelphia, PA
Asian Immigrant Women Advocates, Oakland, CA
Asian Pacific American Labor Alliance, AFL-CIO
Asian Pacific Americans for Action (APAA) at Cornell University, Ithaca, NY
Asian Pacific Environmental Network, California
Asian Pacific American Network of Oregon
Asian Women's Shelter, San Francisco, CA
Asians for Black Lives – Madison, Madison, WI
ASPIRE, Bay Area, CA
AYPAL: Building API Community Power, Oakland, CA
BAYAN USA
ChangeLab
Chinatown Community for Equitable Development, Los Angeles, CA
Chinese for Affirmative Action, San Francisco, CA
Chinese Progressive Association – Boston, Boston, MA
Chinese Progressive Association – San Francisco, San Francisco, CA
Coalition for the Revitalization of Asian American Studies at Hunter, New York, NY
Coalition of API Americans Collaborating Together to Unite the Southwest, Denver, CO
Damayan Migrant Workers Association, New York, NY
Dari Project, New York, NY
Desis Rising Up and Moving (DRUM), New York, NY
Freedom Inc, Madison, WI
GABRIELA New York, New York, NY
Gay Asian Pacific Islander Men of New York (GAPIMNY), New York, NY
Groundwork for Praxis, New York, NY
HOBAK, Oakland, CA
Khmer Girls in Action, Long Beach, CA
Korean American Coalition to End Domestic Abuse (KACEDA), Oakland, CA
Korean American Historical Society, Seattle, WA
Martinez Street Women's Center, San Antonio, TX
Muslim American Women's Policy Forum, Washington, DC
National Asian Pacific American Women's Forum (NAPAWF)
National Coalition for Asian Pacific Americans for Community Development (NCAPACD)
National Queer Asian Pacific Islander Alliance (NQAPIA)
New York Committee for Human Rights in the Philippines, New York, NY
Nodutdol for Korean Community Development, New York, NY
Oberlin College Asian American Alliance, Oberlin, OH
Providence Youth Student Movement (PrYSM), Providence, RI
Queer Asian Pacific-Islander Alliance (QAPA), Boston, MA
RAISE: Revolutionizing Asian American Immigrant Stories on the East Coast, New York, NY
Reappropriate
Sahngnoksoo, Seattle, WA
Society for Asian American Graduate Affairs (SAAGA) at Cornell University, Ithaca, NY
SOUL – School of Unity and Liberation, Oakland, CA
SALGA-NYC, New York, NY
Simmons College Asian Student Association, Boston, MA
Skidmore College Asian Cultural Awareness Club, Saratoga Springs, NY
Sloths Against Nuclear State, New York, NY
SOOBAK, Los Angeles, CA
Southeast Asia Resource Action Center (SEARAC)
South Asia Solidarity Initiative, New York, NY
Tufts Asian American Alliance, Medford, MA
UNC Monsoon, Chapel Hill, NC
VAYLA (New Orleans, LA)
Individuals:
Aaron Dailey
Ai-jen Poo
Aki Douthat
Alex-Quan Pham
Alex T. Tom
Alice Wong
Allison Budschalow
Alvin Kim
Alvina Wong
Amita Manghnani
Amy Cross
Andrea Scandrett
Andy Su
Angana Roy
Angie Tran
Angry Asian Man, Phil Yu
Anita Chikkatur
Anna Lei
Annie Shaw
Annie Wu
Aprli Khaing
Ashley Uyeda
Athena Pult
Aya Folk
Bao Phi
Becca Asaki
Betty Chen
Bob Wing
Breanne Tcheng
Bryan Chen
Bruce Reyes-Chow
C. Kee
Cam Nguyen
Cayden Mak
Professor Celina Su
Celine Liu
Chandan Reddy
Chelsea Gao
Chris Le
Christina Xu
Christine Peng
Cynthia Fong
Darakshan Raja
C. M.
Carol Lee
Christen Lee
Dr. Christine T. Lipat
Christine "Xine" Yao
Claire Tran
Clara Iwasaki
Cristy Yeung
Cynthia Lee
Dahn Bi Lee-Hong
Daniel Ichinose
Danthanh Trinh
Prof. David Palumbo-Liu
Prof. David Shih
Dawn Lee Tu
Debby Cho
Dedunu Suraweera
Deepa Iyer
Diana Pei Wu, PhD
Diane Wong
Dieu Huynh
Donna Gasapo
Donna Maeda
Eddy Zheng
Eliana Yu
Rev. Elizabeth Leung, Cleveland, OH
Prof. Ellen Wu
Eric Hu
Supervisor Eric Mar, San Francisco Board of Supervisors
Erica Qiao
Esther C.
Eugenia Beh
Fay Chiang
Felix Shiheng Huang
Francois Luong
Fred Sasaki
Gareth Chen
Giao Tran
Glenn Omatsu
Grace Liu
Gracelynne West
Gregory A. Cendana
Gwendolyn Mink
Hanna Sam
Helen Choi
Helen Xu
Helena Wong
Henry Lee
Henry Pan
Hertencia Petersen
Hideyoshi Coryne
Hollis Wong-Wear
Jade Cho
Prof. James Lee
Janelle Wong
Jasmin Kim
Jason Buell
Jason Fong
Jason McGraw
Jeff Chang
Jeffrey Lau
Jeffrey Pu
Dr. Jenny Phung-Payne, MD
Jessica Wu
Jillian Murray
Jimmy Higa
Jiyoung Im
Joan Chiou En Lin
Joan May Cordova
Johanna Puno Hester
Jonathan Tran
Joo-Hyun Kang
Joshua Wells
Joyce Nakamura
Judy Jun
Juhee Kwon
Julia Katz
Juliet Shen
Ka-Man Tse
Kalani Young
Kalaya'an Mendoza
Karin Wang
Karmen Cheung
Karen Fong
Karn Saetang
Karsten Jurkiewicz
Kasey Shen
kat yang-stevens
Katharine Pong
Kathy Ko Chin
Katie Seitz
Katie Zheng
Keith Miyake
Kelvin Tam
Kevin Koo
Kristen Sun
Kristy Phan
Kristy Zhen
Laina Yoswein
Lasitha Ranatunga
Le Tim Ly
LiJia Gong
Lily Wu
Linda Lam
Linh Chuong
Lisa Hasegawa
Lisa Lee
Lolan Buhain Sevilla
Londeka Ndukuda
Lorrayne Shen
Luke Patterson
Lydia Lowe
Lynna Zhong
M. Cesarre Perrin
Maggie Quan
ManSee Kong
Marcia Liu, Ph.D.
Mari Rose Taruc
Marc Shi
Mark Tseng Putterman
May Fu
Mee-Ju Ro
Prof. Meredith Oda
Michael Pascual
Michelle Lau
Michelle Yu
Mimi Kim
Mina Itabashi
Monica Tzeng
Monique Jones
Moon-Ho Jung
Moray Lee
Professor Naoko Shibusawa
Nathaniel Lowe
Nga Bui
Nikhil Umesh
Nikki Filler
N'jaila Rhee
Olivia Evans
Pam Mintz
Patrick Chen
Prachi Patankar
Prerna Lal, Esq.
Quynh Nguyen
Rahadyan Sastrowardoyo
Ray Jose
Rebekah Jaramillo
Renee Tajima-Pena
Rob Rusli
Dr. Robyn Magalit Rodriguez
Roger Tang
Ryan Wong
Ryden Nelson
Sally Kim
Samantha Ng
Sarah Lee
Prof. Scott Kurashige
Shaili
Sharifa King
Shaun Lin
Shayne Nuesca
Shelley Lee
Silvena Chan
Sine Hwang Jensen
Sonia Fang
Sonny Singh
Sophia Lamar
Soya Jung
Stephanie Mao
Stephen Mak
Sue J. Kim
Suey Park
Sunhay You
Sunny Kim
Suresh Dianand
Susan Hayase
Swati Rayasam
Taiyo Na
Tanya Tran
Tenzin Namdol
Tessa Kim
Theanne Liu
Theresa Tran
Dr. Thomas Chen
Tina Bartolome
Thomas L. Mariadason
todd ayoung
Toi-Sing Woo, New Directions Consulting
Tom Izu
Tomie Arai
Tommy Wu
Toshi X. Tomori
Urooj Rahman
Victor Yang
Victoria Wong
Vincent Fang
Vincent Pan
Vivian Truong
Vt Nguyen
Wan Xia Ma
Wesley Alonzo
Wesley Chu
William Takamatsu Thompson
Winnifred Lee
Yaejoon Kwon
Yanin Senachai
Yanlin Fu
Yaochiem Chao
Yesi Kondo Zapanta
YK Hong
Yonah Dylan Su-Chun Mott
Yun-Sook Kim Navarre